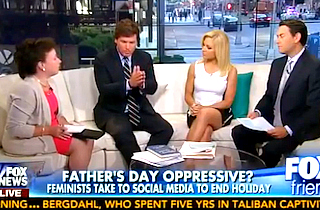 The Fox & Friends weekend hosts and Susan Patton, aka "The Princeton Mom," had a collective freakout over #EndFathersDay, a fake hashtag campaign started by pranksters at 4chan.
Per the Inquisitr, the #EndFathersDay hashtag only received a few actual tweets, and, Death and Taxes' Robyn Pennacchia pointed out, at least two of those appeared to be from fake accounts set up for the purposes of jumpstarting the hashtag. After that, the "trending" came from people tweeting the hashtag to disapprove of it.
That didn't stop the F&F hosts, though. After acknowledging that the campaign "started as a joke," the hosts then read some of the over-the-top tweets ("Maybe I should ignore my kids today instead of taking care of them #EndFathersDay") credulously.
RELATED: Fox & Friends Host Airs Fake Story About Obama Funding Muslim Museum
Patton was appalled. "They're not just interested in ending Father's Day, they're interested in ending men," Patton responded. "That's really what they want."
"We're talking about a group of antagonistic feminists, who, first, don't even have men in their lives probably," she continued. "It just one more thing, one more micro-aggression for them to latch onto and get crazy over. …For these ridiculous, antagonistic feminist women to say it's a celebration of male oppression? No, it's a harmless creation of the greeting card industry, the aftershave industry, the tie manufacturers."
Watch the clip below, via Fox News:
[h/t Raw Story]
[Image via screengrab]
——
>> Follow Evan McMurry (@evanmcmurry) on Twitter
Have a tip we should know? [email protected]