Fox & Friends Rails Against Hollywood 'Obsession' With Traveling To Cuba: 'Okay For Them,' Not For Us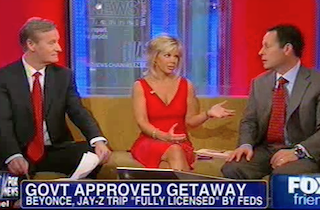 "What is it with Hollywood celebrities going to Cuba?" Fox & Friends' Gretchen Carlson asked on Tuesday. Noting the country's problems and that it's "not necessarily" free, the hosts questioned the Hollywood "obsession" in light of Jay-Z and Beyoncé's recent trip to the country, which garnered some controversy. Most of us can't travel to Cuba, they noted, but it's a-okay for them.
RELATED: Useful Idiots: Beyoncé And Jay-Z Ignore Cuba's Racism With Havana Trip
"Extraordinarily," Steve Doocy asserted, "these Hollywood heavyweights, who are aligned with this White House, got a license from the U.S. Department of Treasury. They traveled there legally. Many can't, they could."
Noting that the White House said they've loosened restrictions on travel to Cuba, Brian Kilmeade was a bit baffled by the decision. "You would think there'd be outrage and disdain for those who rob you of your rights, you creativity and jail you," he asserted. "I believe there are more African-Americans in jail per capita in Cuba than anybody else."
Musicians, too, are jailed in Cuba, Carlson chimed in on the "obsession," due to freedom of speech issues. Yet musicians are often the ones who go there. "You would think if they went there, it would be to try to change that potentially, instead of appearing to honor it," she argued.
It was "okay for them," Doocy added, coming back to his original point, but not for most of us.
Take a look, via Fox News:

Have a tip we should know? tips@mediaite.com