Fox & Friends Remains Baffled: How Is Obama So Popular When The Economy Is Still 'Dismal'?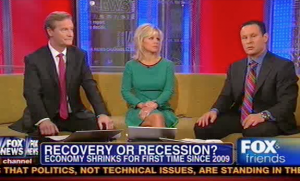 In light of yesterday's news of negative GDP growth in the fourth quarter of 2012, Fox & Friends turned their attention to the economy on Thursday morning. Specifically, how it relates to President Obama's approval rating. How, they asked, does he remain so popular when the economy is still in a "relatively dismal" state?
While the recession technically is over, Steve Doocy said, it doesn't feel that way for many Americans. It's not unexpected though, he said, given the policies that have been adopted. But the White House isn't blaming Obama's predecessor this time around — instead they're blaming Republicans in Congress.
Brian Kilmeade went on to contrast the 2010 projections for how the economy would be doing today with how the economy is actually doing, noting that we haven't met those projections. The stock market may be up, but unemployment hasn't lowered much and consumer confidence is down. Yet Obama's approval is at a three-year high of 60 percent. "It's like he's impervious to numbers," Kilmeade observed.
There is a reason, Doocy said. "The mainstream media will not talk about how bad it is." The same thing happened leading up to the election, he said. Despite it being the "number one" story affecting Americans, we heard about the "war on women" and "binders full of women." Everything, he said, except what actually matters.
Many would say however, Gretchen Carlson chimed in, that "people have their own responsibility to look at their own pocketbook," and use that to determine their vote. But "this time around it's an anomaly."
"People will write books about this for years on end how the popularity of this president remains so high, and yet the economy remains relatively dismal," she added.
Watch below, via Fox News:

Have a tip we should know? tips@mediaite.com