Fox & Friends: Admin Throwing 'Amnesty Fans A Bone' By Releasing Immigrants Ahead Of Sequester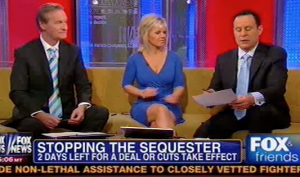 Yesterday, reports showed that, ahead of sequestration taking effect, the Department of Homeland Security has started releasing hundreds of undocumented immigrants from detention centers as a way of saving money. Fox & Friends caught wind of the news — and the hosts weren't pleased.
"They felt they had no choice but to let them loose in Arizona," Brian Kilmeade remarked. But the sequester hasn't actually taken place yet, Gretchen Carlson added, questioning why they'd be released beforehand.
"What happens if one of these released illegals does something illegal?" she asked. "What if there's a crime committed as a result of this? Then what happens? I think it's a really dicey proposition here to be doing this if it is for political posturing."
Which is exactly what Arizona Gov. Jan Brewer thinks it is, adding that it's "the height of absurdity." By releasing them ahead of the cuts going into effect, Steve Doocy chimed in, "they're hoping…it puts the heat on the Republicans to go ahead and cave on taxes, which they're not going to."
"Never let a good sequestration go to waste," he quipped. "There's a real good possibility the administration's simply throwing their amnesty fans a bone."
Turning to the issue of the sequester overall, Kilmeade remained pessimistic, noting that nobody is talking to each other. No one appears to be looking for a solution. Indeed, while the president said he can't do things by himself, Carlson responded, perhaps that's exactly what Americans want him to do: Use his power.
It's "mind-boggling."
Video below, via Fox News:

Have a tip we should know? tips@mediaite.com