Fox & Friends Rips Al Gore: Former Vice President Selling Out To 'Clearly Anti-American' Al Jazeera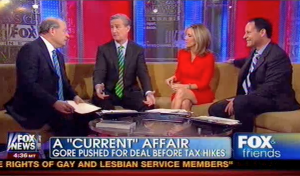 On Friday, the Fox & Friends crew relished in taking on Al Gore for selling Current TV to Al Jazeera. Guest Stuart Varney took apart the various hypocrisies of the deal, incredulously noting that the former vice president of the United States has sold his network to a "clearly anti-American news channel."
The segment recalled Gore's remarks this past November when he pointed to the Clinton administration's argument that we should all do our fair share. "The single most popular proposal we had was to reduce taxes on working people and lift the higher rate," he said then.
Then, noting that Gore wanted to get his deal done before the new tax rates this year kicked in, Varney criticized him for "gross hypocrisy." Alisyn Camerota chimed in, "He was desperately trying to make the most money on that profit."
It's a good business move, Brian Kilmeade argued, but it "flies in the face of what he says."
Varney then moved on to pointing out Gore's second hypocrisy: Al Jazeera is owned by the "oil sheikh-dom" of Qatar. "Big Al who hates Big Oil is actually making a ton of money by selling it to Big Oil."
But lest you think that was all, the hosts then also noted that Al Jazeera wasn't the only potential buyer. There was also Glenn Beck, who claimed he was rejected for ideological reasons. "You can see more eye-to-eye with Al Jazeera than Glenn Beck, Mr. Red White And Blue?" Kilmeade asked.
"This is the former vice president of the United States of America, and he sells his news network to a clearly anti-American news channel called Al Jazeera," Varney remarked. "What? Are you kidding me?"
Take a look, via Fox News:

Have a tip we should know? tips@mediaite.com