Fox & Friends Rips Obama's Reported Plan To Push 'All Those Liberal Things' By Regaining Dem House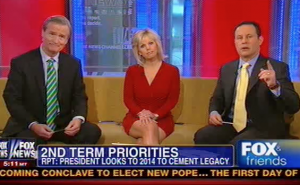 Looking at President Obama's second term, the Fox & Friends crew was not pleased on Tuesday. Namely in terms of his reported plan to push through a progressive agenda by regaining Democratic control in the House. The hosts asked: What happened to coming to the middle?
"It turns out our revenue is pretty high," Brian Kilmeade remarked. "Historically high," he added, leading Gretchen Carlson to pose a question: "You might say to yourself, with all this extra revenue coming in from taxes, shouldn't we be able to get rid of some of our debt in the process? Or should we spend more money?"
Everything is part of Obama's larger second-term plan, Steve Doocy asserted, pointing to a recent Washington Post article that reported Obama hopes to have Democrats regain control of the House in order to execute his agenda.
The report notes: "The goal is to flip the Republican-held House back to Democratic control, allowing Obama to push forward with a progressive agenda on gun control, immigration, climate change and the economy during his final two years in office, according to congressional Democrats, strategists and others familiar with Obama's thinking."
"If he does that, he's going to do all those liberal things Steve mentioned," Kilmeade responded. "Compare it to what Ronald Reagan, George Bush and Bill Clinton did. They came to the middle."
Prior to the election, Carlson added, some expected Obama to come to the center in his second term, but that hasn't been the case. Now, "even people who are mostly liberal said this president is too busy campaigning instead of actually getting some compromise and policies done."
While White House Press Secretary Jay Carney said 2014 isn't focus for the administration, Doocy said, he "got caught" in spin.
Take a look, via Fox News:

Have a tip we should know? tips@mediaite.com