Fox & Friends Skewers 'Delicious' Irony Of Obama Initiative Encouraging Young People To 'Budget Responsibly'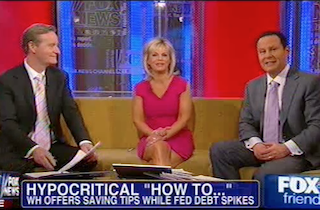 Did you know that April is National Financial Capability Month? Apparently so, according to a presidential proclamation, which details the initiative's goal to help Americans, especially young people, learn how to "budget responsibly" and plan their financial future. The "delicious" irony was not lost of Fox & Friends this morning as the hosts criticized President Obama for not practicing what he preaches.
Noting the need for "smart financial planning," the proclamation states, "Together, we can prepare young people to tackle financial challenges — from learning how to budget responsibly to saving for college, starting a business, or opening a retirement account."
That's all great, except for one teensy problem that Gretchen Carlson pointed out: "When you juxtapose that against the average amount every household is paying for the national debt since he took office, which is $53,377 per household, some people might scratch their heads about budgeting responsibly."
"The irony is delicious," Steve Doocy chimed in, adding that Obama and his team haven't put forth a budget of their own. Perhaps they should take a look at their own advice? Brian Kilmeade couldn't agree more.
"There are links to how to get the most out of your credit card on this website, also how to manage debt and credit. Sadly the president is on the record saying, I'm not going to hurt the budget by overemphasizing cutting down on our deficit, which has gone up 53 percent since he went to the White House," he asserted. "Young people, do as they say, not as they do."
This initiative is blatantly inviting this line of criticism. And Fox & Friends did not disappoint.
Take a look, via Fox News:

Have a tip we should know? tips@mediaite.com