Fox & Friends Slams Obama's One-Man Agenda: 'Is There Anybody Else In The Dem Party Except' Him?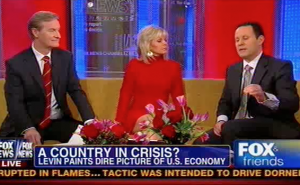 On Thursday morning, the Fox & Friends crew took on the "very liberal laundry list" President Obama outlined in his State of the Union address. While Steve Doocy noted that not even Democrats would pass Obama's agenda, Brian Kilmeade went on to question the lack of a John McCain-esque figure on the left.
RELATED: Mark Levin Trashes Obama For Ignoring The Constitution, Tells GOP To 'Start Acting Like Men'
The pointed to Mark Levin's criticism of the president, wherein he asserted that Obama lies to the American people and is neglecting to acknowledge the dismal state of the country's economy. He "treats us like we're France."
Kilmeade noted that while polling shows majority approve of the president, it also shows that majority thing the country's headed in the wrong direction. It's like how people described their family, he said: "The American public likes him personally, and they just factor in, 'Well, what can you do about it? We like him, and we're just going to take the job performance away from the likability.'" Liking him personally, he added, somehow entails not holding Obama accountable.
There does appear to be a "disconnect," Gretchen Carlson chimed in. Polls have shown most people believe we have a spending problem… yet that's exactly what the president called for in his State of the Union address.
That "very liberal laundry list" is unlikely to gain support even among Democrats, Doocy responded — also noting that it was the lowest-rated State of the Union since 2000.
"Is there anybody else in the Democratic Party except the president?" Kilmeade asked. "You don't see anybody stand up. There is no John McCain on the left coming out and saying, 'This is where I agree with the president, where I don't agree with the president.' There is only one guy."
"They have got everybody on a leash," Doocy replied.
Watch below, via Fox News:

Have a tip we should know? tips@mediaite.com