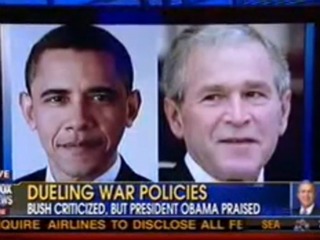 Earlier this morning, we mentioned that, during his appearance on last night's Hannity, guest Dick Morris likened Barack Obama's "Declaring Success" in Libya to George W. Bush's "Mission Accomplished" moment regarding Iraq. It was a very brief statement, but one that, this morning, the team at Fox & Friends seized upon and spun into a greater narrative.
Co-host Steve Doocy explained why he felt Obama's speech on Libya yesterday was particularly ill-timed:
So you look there and you see the chaos, and you see that nobody is really in control. And yet yesterday the President of the United States took a little time out from his swanky vacation up there in Martha's Vineyard to go over to the podium and say, "It's over for Gaddafi! Stick a fork in him."
Co-host Brian Kilmeade noted that Obama also made sure to mention that the situation in Libya is still "fluid," and didn't quite come out and seek a pat on the back for a job well done . He then referred back to Morris' comments from last night.
Also interesting to note was the screen's lower third throughout the segment, which, at one point, featured images of both Obama and Bush with the phrase "President's Power Grab. Launched Libyan Operation Without Congress." The hosts then expanded on the similarities and differences between the two Commanders in Chief, recalling how Bush sought approval from the United Nations and bipartisan support before choosing to pursue military action in Iraq and, yet, he has been "ridiculed" by so many in the media. By contrast, they viewed the mainstream media as applauding Obama and declaring "mission accomplished" in Libya, despite continued violence and the ongoing search for Gaddafi.
Whether you agree with these Fox News personalities' assessment or not, it's an interesting TV moment in that it shows viewers "how the sausage is made," so to speak, as far as a media narrative is concerned.
Have a look at the clip, via Fox News:
Have a tip we should know? tips@mediaite.com