Fox & Friends Takes On Andrea Mitchell's 'Totally Out-Of-Bounds' Reaction To Susan Rice Withdrawal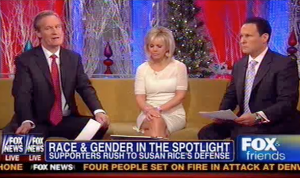 Following UN Ambassador Susan Rice's withdrawing herself from the running for Secretary of State, MSNBC's Andrea Mitchell remarked that forcing "a woman of color" out of the confirmation process "is not going to help Republicans at all." Fox & Friends disputed those comments on Friday, with Brian Kilmeade deeming them "totally out of bounds."
Speaking on MSNBC, Mitchell made the following comments on Thursday:
I think this had become sort of an impossible challenge for her to be confirmed, that she realized that, the White House realized it as well. I think they know they are on good political solid ground, as you were just pointing out. This is not going to help Republicans at all, the fact that a woman and a woman of color has been forced out of a confirmation process even before she was nominated.
Kilmeade said Mitchell's bringing up "the gender factor and the race factor" was "totally out of bounds" — while Steve Doocy noted that the last Republican president's Secretary of State was both African-American and a woman: Condoleezza Rice. "We have seen a lot of this kind of talk from the left over the last couple of months," he said.
Agreeing that race and gender "had nothing to do with it," Gretchen Carlson pointed to other recent Secretaries of State — Hillary Clinton and Madeleine Albright. "I can't even remember the last male," she said, noting that it was Colin Powell.
Those factors absolutely have nothing to do with it, Doocy emphasized. It's the fact that "many people feel [Rice] lied to the American people to give the president of the United States political cover just before an election."
Watch below, via Fox News:

Have a tip we should know? tips@mediaite.com