Fox & Friends Takes On Steve Kroft's Assertion That Obama Knows 60 Minutes Won't Play 'Gotcha' With Him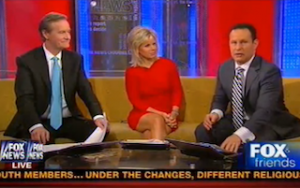 Fox & Friends spent a portion of their morning looking back at Steve Kroft's appearance on Piers Morgan's show last night — when he discussed his 60 Minutes interview with President Obama and Secretary of State Hillary Clinton. Particularly noting why Kroft said Obama is comfortable with the show, the co-hosts took an unfavorable look at the "softball" interview.
RELATED: Steve Kroft On His 60 Minutes Interview: Obama 'Knows We're Not Going To Play Gotcha With Him'
After realizing that Morgan hasn't been deported, Steve Doocy went on to offer a recap of the interview alongside the chyron "Presidential Platform?" Kroft, asked about why Obama likes the show, told Morgan that they're fair and edit well — and also that Obama "knows that we're not going to play 'gotcha' with him, that we're not going to go out of our way to make him look bad or stupid."
The crew then went on to highlight Brit Hume's remarks about the interview. The theme of the whole thing, he said, could be described as, "Just How Great Is The Relationship Between You Two?" Had President George W. Bush given such an interview, he certainly wouldn't have been treated the same way, Hume asserted.
Brian Kilmeade noted that he'd gotten the call to interview both Bush and his father, and it's hard to draw the line with tone because there has to be respect for the office. Doocy agreed, adding that it was a "novelty."
But it's interesting, he went on, "how the president doesn't like what we do here at Fox News, which means he's not crazy about the First Amendment. Doesn't like guns, that means he's not crazy about the Second Amendment."
"A lot of weird stuff floating around these days," he observed.
Take a look, via Fox News:

Have a tip we should know? tips@mediaite.com