Fox & Friends Trashes 'Childish' Decision To Nix White House Tours After Sequester: 'Time To Grow Up'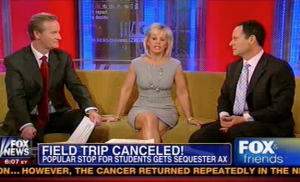 The White House's decision to discontinue tours (for the time being, at least), citing budget cuts, was met with mockery on Wednesday's Fox & Friends. Deeming the move "childish," the crew criticized the White House for trying to make the sequester seem as painful as possible.
Brian Kilmeade argued at the tours are largely "self-tours" anyway: "No one talks to you" and there's little guidance. "Come on," he added, "this is like the cheapest thing in the world."
"It's so childish," Gretchen Carlson agreed. "I mean, really? … Most of the people who are going to suffer from this are the kids." We're all adults, she continued — so we should be able to sit down and find a more responsible way to approach the issue.
The people giving the tours are volunteers, Steve Doocy further noted. "They don't get paid. So exactly how much money are they going to save?" he asked. "As we've been telling you for the last month, the White House is just trying to scare you. And now that the sequester has kicked in, to make it look as painful as possible."
Not to mention, it's a high-profile story, Carlson said, so they know they'll get a good deal of attention. "I say it's time to grow up," she asserted, segueing to discussing a related matter: The email from a federal official that apparently said, regarding the budget-cut messaging, "you need to make sure you are not contradicting what we said the impact would be."
"So we've come to the point where now we're going to be ordering people to make the lines at the airport extra long just because?" Carlson asked. "This is so ridiculous."
Take a look, via Fox News:

Have a tip we should know? tips@mediaite.com