Fox & Friends Tears Into Obama's Gun Control 'Guilt Trip': 'Shame On Us…For What?'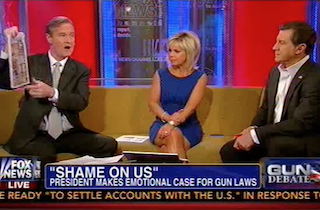 The Fox & Friends crew was not pleased with President Obama's remarks on gun control yesterday. Deeming it a "guilt trip," the hosts questioned the president's approach to fighting gun violence. Shame on us? "Shame on us, though, for what?" Steve Doocy asked.
Many Republicans are opposed to the president's gun control measures, the hosts noted, including Sen. Rand Paul (R-KY) who said last night that he would filibuster any gun bill. This staunch opposition obviously poses a hurdle for the legislation, but Eric Bolling wondered how it will go over with members of the president's own party.
"It is very interesting, though, to see who votes for these amendments because a lot of these senators, Democratic senators, are highly rated with the NRA, and they're risking that rating, and they don't want to risk it," he argued.
Doocy returned to Obama's emotional speech, which was "a 13-minute guilt trip telling people, 'Don't forget the kids.' 'Shame on us,' he said repeatedly."
"Shame on us, though, for what?" he asked. "That a crazy person got a gun and killed people? We feel terrible about that. But…there are plenty of laws out there today that simply are not being enforced."
The three spent a fair chunk of the segment looking at some of the specific provisions in the bill (background checks, school security, etc.), continuing to question why we don't focus instead on the enforcement of the existing laws. The cities with the most gun crimes, Gretchen Carlson noted, are not prosecuting many of them — so isn't that the issue we should tackle?
Take a look, via Fox News:

Have a tip we should know? tips@mediaite.com