Fox & Friends' 'Top Five Turkeys Of 2011' Segment Includes Actual Turkey, Bourbon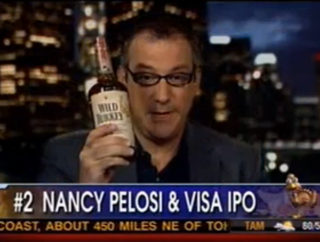 Given yesterday's festivities, it was pretty easy to miss out on some of the more memorable Thanksgiving moments on cable news– most of us were trying to keep our houses in order, after all. But should you have been awake at 6 AM and watching Fox News, you'd have found the party started way early, with Breitbart.tv's Larry O'Connor counting down the "Top Five Turkeys Of 2011," complete with a delicious-looking turkey leg and even more appealing bottle of Wild Turkey bourbon (to drown the pain caused by Rep. Nancy Pelosi.
RELATED: Awesomely Random Fox and Friends Panel Decides President Obama Can Keep Nobel Peace Prize
O'Connor began the list by chomping on a turkey leg (sadly, he could not share transcontinentally with host Clayton Morris and going after Occupy Wall Street, who nabbed the number five spot. "Only these precious little dirtbags can make Wall Street bankers look sympathetic," he noted, while making the predictable Michael Moore/Butterball joke (he apologized– just couldn't resist).
Rounding out the list were Warren Buffett's secretary, the Supercommittee (whom he noted must've been named by someone who "called Zima a 'super beverage'"), and Rep. Nancy Pelosi— for which he needed a bit of that Wild Turkey to stand her actions.
The number one spot? That went to, as O'Connor put it, "the Congressional member whose member we'll always remember," for lying and endangering the careers of many while being an embarrassing predator.
The segment via Fox News below:

Have a tip we should know? tips@mediaite.com