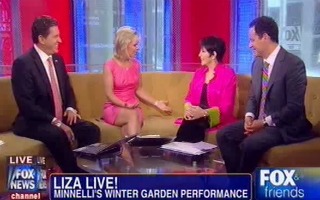 Broadway actress Liza Minnelli appeared on Fox & Friends on Tuesday to promote a CD of some of her biggest musical hits. What followed was an extraordinarily awkward exchange that required the hosts to muster all their powers of interview to get through.

RELATED: Awkward: Karl Rove Calls Fox & Friends Host Alisyn Camerota 'Gretchen''
The interview started relatively stiff, and it only became clear why when fill-in host Eric Bolling confronted co-host Brian Kilmeade who he described as having been "nervous all morning" about sitting down with Minnelli.
"Why?" asked Minnelli.
"Because you're a legend," Kilmeade responded. "Sitting next to Gretchen and Eric is intimidating enough, but you come in here and you can point to [Johnny] Carson and Merv Griffin and all these legendary talk show hosts. And, you know, to be on our couch."
"Come on," Minnelli responded.
When Minnelli was asked if she would ever consider getting married again, she responded "at this age? Come on."
The Broadway star was asked what she likes to do, to which she responded that she enjoys cooking and can make an excellent "Yugoslavian pot roast."
Kilmeade corrected her, saying that earlier she had described her pot roast as so good it would "kill you dead." Kilmeade said that description may have been slightly cocky, to which Minnelli replied "but I'm right."
She went on to describe the herbs that uniquely flavor that pot roast – in case you were curious, those are "thyme, sage and rosemary." Like the song.
Co-host Gretchen Carlson asked Minnelli to weigh in on a new Broadway play about her mother. Minnelli responded "oh, please."
"No response," asked an increasingly uncomfortable Kilmeade.
"None whatsoever," replied an oblivious Minnelli.
Minnelli said that the state of Broadway was strong and that she spends much of her time traveling the world and entertaining troops abroad.
Finally, Minnelli was asked about her memoir; would she eventually write one and what would be in it? She said that if she ever found time to write one, "it would be funny… because there's so many funny things that happened. On the road and in travel. Thank God for laughter."
Thank God, indeed.
Watch the interview below via Fox News Channel:
Have a tip we should know? tips@mediaite.com