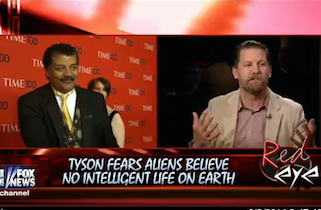 On an episode of Fox News' Red Eye earlier this week, Greg Gutfeld introduced a discussion about Cosmos host Neil deGrasse Tyson by adding a "yeah right" after his job title of astrophysicist. But that was nothing compared to what his guest, Gavin McInnes had to say about the man.
Gutfeld brought Tyson up because of an interview he gave to MSNBC's Chris Hayes the week before in which he suggested aliens may not be all that impressed with Earth's "cultural emissaries." But McInnes took things in a different direction.
"I hate this guy," McInnes declared. "I remember hearing Chris Hardwick on a podcast talk about Neil deGrasse Tyson and he was just salivating. White liberal nerds love this guy so much, he could defecate on them like Martin Bashir's fantasies and they would dance in the streets." He was, of course, referring to that MSNBC host's infamous suggestion about what he believed should happen to Sarah Palin.
"He is drunk with adulation," McInnes continued. "And he talks about things like, when I was young in New York I would get racially profiled. Back then he looked like he was in the Warriors! He had a huge afro and a cut-off shirt and New York was in a war zone. Sorry, you fit the profile!"
"How did we get to this?" Gutfeld asked. "I want to talk about aliens!"
The last time we heard from McInnes on Fox, he was telling Sean Hannity that he would let his sons go to spring break but not his daughters. When confronted with this apparent "double standard," he replied, "It's called different genitalia!"
Watch video below, via Fox News:
[h/t MMFA]
[Photo via screengrab]
— —
>> Follow Matt Wilstein (@TheMattWilstein) on Twitter
Have a tip we should know? [email protected]