Fox Guest Blasts 'Horny Hick From Arkansas' Bill Clinton For 'Patronizing' Attitude On Gun Control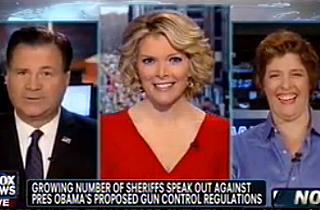 Fox News guest Lars Larson went after former President Bill Clinton this afternoon, blasting the "horny hick from Arkansas" for having a "patronizing" attitude towards how lawmakers should treat Second Amendment advocates.
The Fox panel was reacting to news that Clinton warned his fellow Democrats of the political dangers of mocking gun advocates, citing his own experience as someone who "comes from that world" and understands how passionately people believe in their traditional right to possess firearms.
"Bill Clinton tells his fellow Democrats, 'Don't patronize'?" the conservative radio host laughed. "Let me get this straight, the horny hick from Arkansas is warning Democrats that there are a lot of dumb hicks in Arkansas?"
Co-panelist Sally Kohn broke out laughing while a shocked host Megyn Kelly said, "No, you did not say that."
He continued through the laughter: "And the dumb hicks don't want to be relieved of their guns so be careful what you say to them. This guy is as patronizing as the day is long."
"You can't agree with him even when he's on your side?" Kelly joked.
"It's patronizing because he says he used to be a hick from Arkansas, and he is no longer because he's so worldly and understands all this," Larson explained. "He's right about the warning, but he should couch it in these terms: 'Americans values their liberties,' and they may value their huntin' and fishin', but the president says that's all they've got left in their lives? How patronizing is that?"
Watch below, via Fox:
— —
>> Follow Andrew Kirell (@AndrewKirell) on Twitter
Have a tip we should know? tips@mediaite.com