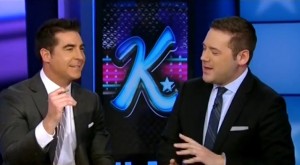 A Fox Business panel got personal Monday when The Federalist's Ben Domenech attacked Fox News' Jesse Watters for constantly shilling for Republican presidential candidate Donald Trump.
Watters condemned Hillary Clinton's surrogates on Fox Business' Kennedy for constantly playing the gender card. "The country's going through so much struggle. No one wants to divide each other and fight over who has what part," he said.
That was too much for Domenech. "Jesse, you have for months been singing the praises of the most identity-politics candidate in this race: Donald Trump," he said. "You've been debasing yourself at the feet of his golden throne over and over and over again on Fox."
Domenech was one of the 22 commentators who wrote an essay for National Review urging their fellow conservatives to reject Trump. Watters defended Trump on Fox's The Five, saying that the National Review writers were "putting their pure conservatism over the country."
"You accused me of putting my principles ahead of my country just the other day on Fox News because I said that Donald Trump wasn't a conservative," Domenech said. "…You were [criticizing] every single person participating in the National Review symposium as putting principle ahead of the country."
Domenech continued to insist Trump was not actually conservative. "Today he's in New Hampshire calling for protectionism and calling for sanctions against companies," he pointed out.
Watters denied that he met anything personal by his attack. "I've never met you," Watters said smiling. "You seem like a nice guy."
Watch above, via Fox Business.
[h/t The Federalist]
[Image via screengrab]
——
>>Follow Alex Griswold (@HashtagGriswold) on Twitter
Have a tip we should know? tips@mediaite.com