Fox Guest Makes Neil Cavuto Uneasy By Tossing Out Zingers About Hannity, O'Reilly, And Coulter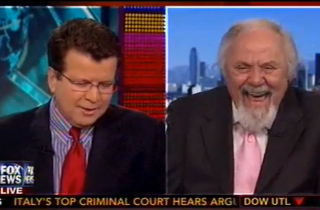 While appearing on Fox News' Your World with Neil Cavuto this afternoon, legendary comedy producer George Schlatter got in a few zingers about Fox hosts Sean Hannity and Bill O'Reilly, in addition to frequent Fox guest Ann Coulter, making his host more than slightly uncomfortable.
After several minutes discussing what Schlatter believed to be the unfair way NBC is treating the reportedly outgoing Tonight Show host Jay Leno, the creator of Rowan & Martin's Laugh-In noted that "The conservatives think [Leno] is too liberal. The liberals think he is too conservative. And he's right there in the middle and doing comedy."
"It's tough to do conservative comedy, you know," he added with a laugh, seemingly poking fun at the stereotype that conservatives are generally less inclined to be funny.
"That's fine. We're four minutes in and you finally had your hit," Cavuto pushed back in jest.
"I didn't say anything," Schlatter replied. "I didn't say the only conservative comics are Sean Hannity and Ann Coulter."
"That's fine. Enough," Cavuto said, visibly uncomfortable but enjoying the laughs nevertheless.
After successfully changing the subject towards the end of the segment, it was Cavuto who managed to bring up his Fox colleagues again, telling Schlatter that "Sean Hannity hopes you go to Hell."
"I'll meet [Bill] O'Reilly there," Schlatter shot back to laughs all around. "O'Reilly's Catholic so he may not get in."
Once again made uncomfortable by the level to which Schlatter took it, Cavuto said, "That's fine. okay. Let me blessedly finish this."
He ended with a joke of his own: "That was George Schlatter making his final appearance here at Fox."
Watch below, via Fox News:
— —
>> Follow Andrew Kirell (@AndrewKirell) on Twitter
Have a tip we should know? tips@mediaite.com