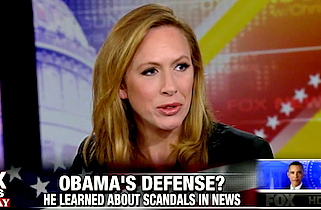 Wall Street Journal's Kimberley Strassel outlined what she'd divined as the five steps of President Barack Obama's scandal manual, which she said he'd followed in response to everything from the story of alleged IRS targeting to the recent eruption of malfeasance in various Veterans Administration hospitals.

"You almost have to wonder if there is a scandal manual in the top drawer of the president's desk," Wall Street Journal's Kimberley Strassel replied. "It isn't just the 'I heard about it from the media.' There are five steps that this administration keeps repeating. Step one, I didn't know about it. Step two, express great outrage. When that doesn't work, step three is fire a low-level bureaucrat. The study comes next. Then we're going to wait and see what the FBI says or the investigation or whatever it is. Then six months later, you say it's either a) done or b) all the result of a partisan push by Republicans."
Fox News contributor Charles Lane gave Obama and Veterans Affairs Secretary General Eric Shinseki the benefit of the doubt.
"There's been a lot of talk that he doesn't seem angry," Lane said. "Come on. This is not about emotions. It is perfectly fair for a president or anybody else who is confronted with this kind of information to say, 'I'm checking into it. I want to find out what the real facts are.' That is a perfectly legitimate response. But he has to go out and find them, you know?"
Watch the clip below, via Fox News:
[Image via screengrab]
——
>> Follow Evan McMurry (@evanmcmurry) on Twitter
Have a tip we should know? tips@mediaite.com