Fox Guest: Sharpton Should Address 'Moral Decay' of Black Community Rather than Blame Cops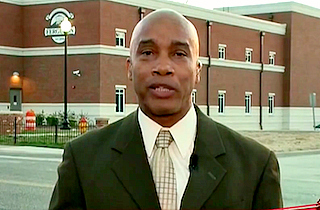 On Fox & Friends Thursday morning, Black Sphere Executive Director and St. Louis resident Kevin Jackson said that African American communities needed to stop "pointing the finger" at police, and instead examine the dynamics of black communities — including "liberalism" — that lead to mistrust of police officers. Jackson reserved particular ire for Al Sharpton, whom he accused of distracting from the larger issues in Ferguson.

"[Sharpton], Barack Obama, and Eric Holder really should have been talking about the bigger issue, which is I think law enforcement and how this all occurred and the type of decay, the moral decay that's occurring in neighborhoods like this," Jackson said.
The F&F hosts asked Jackson about a previous comment, in which he criticized black communities for idolizing the reggae artist Snoop Lion over Supreme Court Justice Clarence Thomas.
"My point there is that we've gotten to a point in the black community where we're idolizing the wrong people," Jackson continued. "Here is a neighborhood that says 'kill the police.' I happen to live in a black neighborhood here in St. Louis. We're the ones who need the police protection. So we're doing things opposite because quite frankly, I think liberalism has sort of led us to this opposite way of thinking. You should be exalting people like Clarence Thomas and many others that are out there fighting the good fight, but instead, we do tend to idolize people that quite frankly don't live the types of lives and we wouldn't want for our kids."
Jackson also dismissed the claim that the Ferguson police force underrepresented the city's black community. "The fact of the matter is, if the police are here to protect you and they're doing a good job, who cares what color they are?" he said. "But the bigger point there is a lot of the police who are black have left the Ferguson Police Department for better and easier jobs."
Watch the clip below, via Fox News:
[Image via screengrab]
——
>> Follow Evan McMurry (@evanmcmurry) on Twitter
Have a tip we should know? tips@mediaite.com