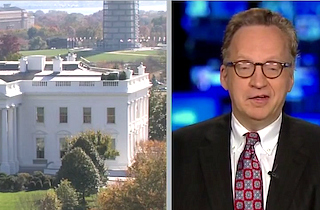 Fox News contributor Jim Pinkerton accused the New York Times on Monday afternoon of damaging President Barack Obama by lulling him into thinking his every decision was correct, and thus ill-preparing him for the disastrous rollout of the Affordable Care Act federal exchange website.
"I think the New York Times editorial page is sort of a torch bearer for this president," Pinkerton began. "They clearly love him and have supported him all along."
"[But] actually, this has hurt the president," he continued. "The New York Times' completely fawning coverage has given him this illusion that everything he does is correct and right. So, for example, how do you square the New York Times praising Obama all time with the report that here in the District of Columbia, it's $27 million for each signup? That's a pretty poor statistic. The Times will have to process that eventually, but not yet."
In reference to what host Gregg Jarrett called multiple versions of the administration's spin on the "if you like your plan, you can keep it" pledge, Pinkerton compared White House Press Secretary Jay Carney to a Nixonian predecessor.
"I'm reminded of another White House Press Secretary in a very tough spot," Pinkerton said. "That was Ron Ziegler in the Nixon administration. When eventually they caught him on Watergate, he said, 'Okay, look, all my previous answers were, quote, inoperative, unquote.' It didn't get Nixon off the hook, but it was an answer for that day."
Watch the clip below, via Fox News:
[Image via screengrab]
——
>> Follow Evan McMurry (@evanmcmurry) on Twitter
Have a tip we should know? tips@mediaite.com