Fox Guest: Trayvon Martin 'Could Have Killed' George Zimmerman With Iced Tea And Skittles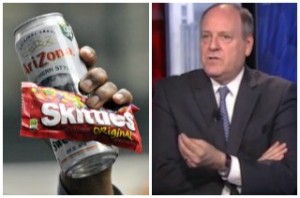 As the George Zimmerman murder trial gets underway today, cable news pundits are out in force with speculations about exactly what happened on the night that Trayvon Martin was killed and how the arguments will play out in court. But this morning on Fox News' online streaming coverage one former federal prosecutor presented a particularly unconventional hypothetical.
Much of the case centers around the fact Zimmerman shot Martin in "self-defense," despite the fact that Martin was unarmed at the time. Speaking to host Jamie Colby, guest Doug Burns suggested that the infamous Skittles and iced tea Martin had on him when he was killed could have been used as a weapon against Zimmerman.
"There's certainly a very good argument to be made that the force used was out of proportion to what was going on and the kid was unarmed," Burns admitted. "We didn't even discuss that. Totally different case, let's say the kid had a gun."
Colby responded, "All that Trayvon—we learned later—was armed with was a bag of Skittles and an iced tea."
"I know everybody keeps sarcastically saying about he Skittles," Burns said, perhaps mocking those who use Skittles as a symbol of Martin's innocence. "You could probably kill somebody with a Skittle," he joked. Taking his idea one step further, Burns said, "The thing is, yeah, you're spinning a lot of hypotheticals, and you could break a bottle of iced tea, right, with the jagged edge, and you could kill somebody with it."
The one problem with Burns' scenario, besides the fact that it is a complete "hypothetical," is that in all the news reports and surveillance video surrounding the incident, it was an Arizona iced tea can that Martin had on him when he was killed.
Watch video below, via Fox News:
(h/t Raw Story)
—
>> Follow Matt Wilstein (@TheMattWilstein) on Twitter
Editor's note: This post has been edited since its original posting – Title originally identified Mr. Burns as a 'Fox Analyst,' he is not, just a guest – Jon Nicosia
Have a tip we should know? tips@mediaite.com