Fox Guest Urges Network To Rally Behind Obama Against North Korea: Don't 'Let Olympus Has Fallen Become Reality'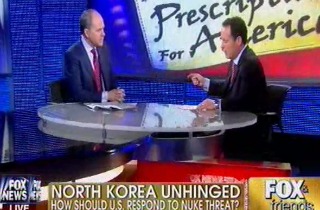 Fox News Channel legal analyst Peter Johnson Jr. warned the hosts of Fox & Friends on Thursday that the threat presented by the North Korea was serious and demands presidential leadership. He urged the nation and his network to rally behind President Barack Obama in the face of threats to American security from Pyongyang. "We're not going to allow Olympus Has Fallen to become reality," Johnson said.

RELATED: Austin, Texas Residents Respond To Kim Jong-Un's Bizarre Nuke Threat
Co-host Brian Kilmeade asked Johnson if it was time for the president to "take a stand" in the face of threats made by the North Koreans to use nuclear weapons on strategic and civilian American targets.
"I'm confident President Obama's taking a stand," Johnson replied. "He's our president."
"And I'm confident that the American people will rally behind him," he continued. "This is a point of unification. This is a defining point in America's history."
He went on to define the nature of the threat the North Korean military poses to global security. "There needs to be an understanding here on Fox, and on every network and in every newspaper, that this is an adversary," Johnson added.
Johnson said he was concerned by a piece in the Wall Street Journal which suggests that the U.S. may be provoking the North Korean leadership rather than allowing them a way to deescalate the crisis. However, he said that the threat is serious and should be taken seriously, especially if the pace of events continues to accelerate.
Watch the clip below via Fox News Channel:
> >Follow Noah Rothman (@NoahCRothman) on Twitter
Have a tip we should know? tips@mediaite.com