Fox Guest: Weiner 'Unattracted' To Huma Abedin Because She And Muslim Brotherhood Want To 'Destroy America'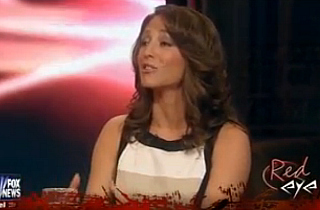 Why did Anthony Weiner feel the need to circumvent his marital bonds with Huma Abedin and send photographs of his genitals to other women? According to Fox guest Brooke Goldstein, the NYC mayoral candidate is "un-attracted" to his wife because she wants to "destroy America" with the help of her familial connections in the Muslim Brotherhood.
During Thursday morning's edition of Red Eye, the attorney was asked whether too much attention has been paid to Weiner's sexting, and not enough to his politics. In response, Goldstein had a suggestion for the "real" question, as she sees it: "Why is Anthony Weiner so un-attracted to Huma Abedin?"
She then answered her own question:
"Perhaps it's because she is connected with Islamists who want to kill us. Perhaps it's because her family members are part and parcel of the Muslim Brotherhood. I completely agree with Andy McCarthy that she poses one of the greatest national security threats in this administration. She has access to the most classified information, because of her position with Clinton, about the Muslim Brotherhood, which creed is to destroy America."
Goldstein's co-panelists, however, expressed a strong level of skepticism about her claims. "Is part of her creed to marry a Jewish perv?" mocked Bill Schulz. Comedian Paul Mecurio suggested Abedin could barely figure out her husband was sexting behind her back, let alone have some sort of devious plot against the United States.
Later on in the program, ombudsman Andy Levy openly called Goldstein's assertions "absurd" and disputed the veracity of her claims.
Watch below, via Fox News:
— —
>> Follow Andrew Kirell (@AndrewKirell) on Twitter
Have a tip we should know? tips@mediaite.com