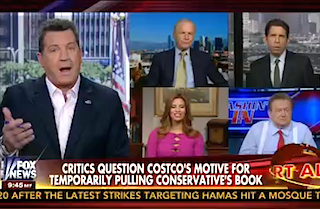 Conservative author Dinesh D'Souza has the #1 best-selling book on Amazon right now. But this week, Costco decided not to stock America: Imagine a World without Her
on its shelves. On Cashin' In Saturday, Fox News host Eric Bolling asked his guests to theorize about why the company may have made what he called a bad business decision.
Fox contributor Michelle Fields began by laying out the large donations Costco's founder and former CEO Jim Sinegal has given to President Barack Obama and other Democrats. "I don't think it is a coincidence they have given all this money to Democrats and all of a sudden they don't like Dinesh D'Souza's book," she said.
But contributor Jonathan Hoenig disagreed, saying D'Souza's "being a real cry-baby here." He said the author "has no right to be featured" at Costco, just like an "Islamist has no right to be featured at a Church gift store." They have a right to sell — or not sell — any products they want, he said, even if it is going to hurt their bottom line.
RELATED: Dinesh D'Souza's New America Movie Is Having Some SEO Problems
"I want to agree with Jonathan, which is very rare," Bob Beckel said. "He is exactly right, D'Souza is a cry- baby." If you really believe in the free market, he argued, you can't fault this private company for making the decision they did.
In the end, Bolling agreed that Costco pulling the book off its shelves was probably the best possible promotion for the book. "Brilliant strategy," he said.
Watch video below, via Fox News:
[Photo via screengrab]
— —
>> Follow Matt Wilstein (@TheMattWilstein) on Twitter
Have a tip we should know? tips@mediaite.com