Fox Guests Clash Over Chuck Todd Saying Obama 'Hates' Social Media: Isn't That How He Got Elected?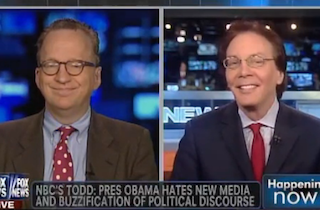 During the White House Correspondents' Dinner, President Obama took jabs at various media outlets — MSNBC, CNN, Fox News — including listicle-generating extraordinaire BuzzFeed. In light of Chuck Todd's subsequent comment about Obama's dislike of social media, Fox News' Jon Scott invited Jim Pinkerton and Alan Colmes to debate whether the president now resents the tools that helped get him elected.
"I remember when BuzzFeed was just something I did in college around 2 a.m.," Obama quipped at the dinner, during a joke about the changing media landscape.
Despite the White House's strong social media presence, Scott noted, Todd argued this weekend that Obama hates the "buzzification" of political discourse. "He hates this part of the media, and he really thinks that this sort of buzzification — this isn't just about BuzzFeed or POLITICO — but he thinks that this sort of coverage of political media has hurt the political discourse," Todd said yesterday on Meet the Press.
Pinkerton quickly struck a critical tone in reacting to Todd's remark, which he said portrayed Obama has being "above" frivolity like that of the WHCD — as though he's "really a very serious man who does nothing but sit around and think deep thoughts."
The irony, too, was not lost on Pinkerton, who noted that Obama "won two presidential campaigns on social media." When it mattered, they took pride in it, he added. But with campaigning in the past, he appears to be projecting a different image.
"Wait a minute, that was a joke," Colmes countered. "A simple joke. It was actually a very good joke."
As Pinkerton did, Colmes pointed to Obama's use of social media, but used it to illustrate that unlikelihood of Obama suddenly resenting new media. Unconvinced, Pinkerton questioned why Todd would make the point if it wasn't true — and went on to offer the answer himself.
"The president is making a pivot now away from the things that got him elected," he asserted, citing Newsbusters in arguing that the White House can't "control" social media the way they can the mainstream media. "Now he's mad."
Pinkerton continued to hammer that point, while Colmes reminded him that these comments are made in jest.
Take a look, via Fox News:

Have a tip we should know? tips@mediaite.com