Fox Guests Take On Media's Sub-Par Bombing Coverage: Better 'To Be Right Than To Be First'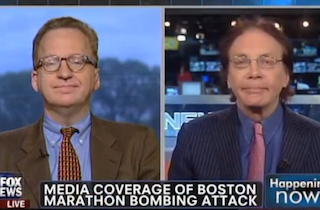 Alan Colmes and The American Conservative's Jim Pinkerton joined Fox News' Jon Scott on Monday afternoon to discuss some of the subpar media coverage during last week's chaos. Offering some sympathy, the panel discussed how outlets can get report so wrong and the consequences those mistakes entail.
RELATED: The 10 Absolute Worst Media Reactions To The Boston Marathon Bombings
Asked to grade the media's overall performance, Pinkerton and Colmes both gave them a B, citing an abundance of inaccuracies, but also the difficulties in getting everything right with breaking stories that are so dynamic.
Getting specific, Scott pointed to discrepancies in reporting how many explosives authorities found as well as CNN's John King saying the suspect was a "dark-skinned male." Pinkerton said they were countless mistakes made throughout, citing a slideshow put together by Mediaite's own Andrew Kirell, which compiled the worst media reactions. All in all, Pinkerton said there was too much speculation for such an important story.
Information is "moving faster than ever," Scott remarked, as Colmes argued that those who get facts wrong on social media don't face the same repercussions as those who make mistakes on CNN or other networks.
"It's more important to be right than to be first," he explained. To that point, Scott pointed to Fox News' own mistake in initially reporting, incorrectly, that a suspect had been arrested.
"How does it happen?" he asked, questioning the information that comes from officials, who are generally trusted. It's a "deep journalistic dilemma," Pinkerton said. King's remark wasn't meant in bad faith, he added as an example. "He was told what he was told. It just turned out to be wrong."
Take a look, via Fox News:

Have a tip we should know? tips@mediaite.com