Fox Guests: Zimmerman Witness 'Devastating For Prosecution,' 'Dealt Ground And Pound To State's Case'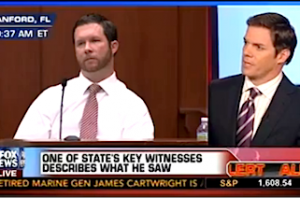 According to experts who appeared on Fox News earlier this morning, testimony from eye witness John Good in the George Zimmerman murder trial could be "devastating" for the State of Florida's case. Good testified Friday morning that he believes he saw Trayvon Martin on top of Zimmerman, furiously punching the man who is claiming self-defense in the trial.
After reviewing highlights from Good's testimony, former federal prosecutor Annemarie McAvoy told Fox's Bill Hemmer, "This is devastating for the prosecution." Because Good described Trayvon Martin is being the consistent aggressor in the encounter, it will make it harder for the state to prove Zimmerman wasn't acting in self-defense.
Former New York police sergeant Steve Kardian characterized Zimmerman's position in the description from Good as "virtually indefensible." As discussed during the testimony, Kardian said that Good likely knew about the "ground and pound" position from watching (Mixed Martial Arts) MMA or Ultimate Fighting Championship (UFC) on TV. Noting the importance of Zimmerman's physical capabilities, Kardian said looking at him he sees "a soft man, a soft person, not very tough, not very physical at all."
Hemmer asked McAvoy how John Good performed as a witness and she replied, "he was a better witness for the defense than the prosecution," a description that could also be used for Rachel Jeantel.
For more, Fox host Martha MacCallum turned to Florida criminal defense attorney Mike Gottlieb, who said Good "dealt a ground and pound to the state's case." He predicted that Good would be very difficult to cross-examine because he's "saying what he saw, and only what he saw, with no embellishments. Gottlieb also called Good's testimony "devastating" for the prosecution, adding, "he's unflappable and a fantastic witness for Zimmerman."
Watch video below, via Fox News:
—
>> Follow Matt Wilstein (@TheMattWilstein) on Twitter
Have a tip we should know? tips@mediaite.com