Fox Host And Conservative Guest Spar With Bob Beckel Over Dr. Ben Carson's 'Shameful' Prayer Breakfast Speech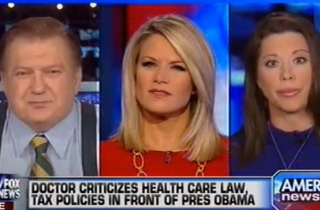 Appearing on Fox's America's Newsroom this morning, Bob Beckel slammed Dr. Benjamin Carson's famous National Prayer Breakfast speech as "shameful" partisan rhetoric, prompting host Martha MacCallum and conservative guest Mary Katharine Ham to spar with The Five's liberal host.
"I really can't say what I think on the air. I'll try to catch my language here," Beckel initially said when asked for his thoughts on Carson's speech. "It was one of the most shameful appearances I've seen in Washington in my career."
Both MacCallum and Ham expressed disbelief that someone could be that offended by Carson's speech. "I've been to a number of prayer breakfasts, and It is one of the few places where bipartisanship reigns," Beckel explained. "It's a way for people to commune with the God of their choice and this guy turns it into a Republican talking point political session. He could have waited for the Conservative Political Action Committee to spew this kind of stuff. He had no right to use a religious ceremony to spew that in front of the President of the United States or anybody else."
– RELATED: Dream Scenario For The GOP: Dr. Ben Carson, Republican Presidential Nominee
"I hope they have a fainting couch behind The Five desk for Bob," Ham joked. "It's perfectly fine for Bob to take issue with this. It's perfectly fine for Doctor Carson to have his point of view. The president tells stories about himself that he loves to be surrounded by a team of rivals, in practice that's almost never true. As long he says he digs it so much, I say sit back and enjoy." The Hot Air editor-at-large continued on to say there's been too much "overreaction" about Carson's speech.
MacCallum then challenged Beckel with the fact that Carson is a "well-known" doctor and the president was likely prepared on the speaker's political point-of-view. She lamented that the two did not respectfully shake hands afterwards and express admiration for one another's differing views.
"It would be fine if it was a political gathering, but it wasn't," Beckel said. "When he quoted the Bible, sometimes not well, he should have remembered that in Romans, the great apostle Paul said that we have to respect authority because the authority is given to us by God."
"How was he disrespectful?" MacCallum pressed.
"How was he disrespectful? He goes and spews that right-wing stuff in front of the President of the United States at a prayer breakfast," Beckel snapped back.
"He was perfectly good and polite," Ham retorted.
"You name me one time in eight years where Bush was at a prayer breakfast when somebody did something like that for him," Beckel asked the two women.
– RELATED: Dr. Ben Carson Takes To Fox To Address His Critics, Blast ObamaCare, And 'Stand Up To The Bullies'
"I don't know that it happened," MacCallum said, while Ham responded: "You tell me when the president himself has gone before the State of the Union and insulted the Supreme Court of the United States, which happened in the second address."
Ham continued: "The president, to expect everybody to hush-hush when he's at an event is not reasonable."
"Katharine, Katharine," Beckel interrupted. "It's a prayer breakfast, do you get that? It's different."
MacCallum chimed in to defend Carson, saying he "spoke from his personal experience, his family experience, how he was raised, talked about his life, talked about the Bible and how he ties all these things into the way his philosophy has brought him to think." She concluded: "I think it's interesting that you're so offended by it."
"I am offended," the Fox liberal commentator replied. "I think he got his 15 minutes of fame and I hope he enjoys it. But shame on him."
"It sounds like you're afraid to hear from him," Ham concluded.
Watch below, via Fox:
— —
>> Follow Andrew Kirell (@AndrewKirell) on Twitter
Have a tip we should know? [email protected]