Fox Host: 'Beyoncé Voters' Depend on Gov't Because They Can't 'Depend on Their Husbands'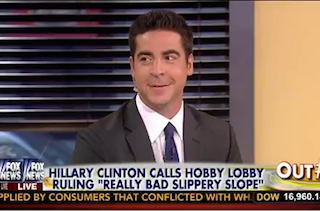 During an appearance at the Aspen Ideas Festival yesterday, Hillary Clinton let her displeasure with the Supreme Court's Hobby Lobby ruling be known, saying it is "deeply disturbing that we are going in that direction." On Tuesday, Fox News host Jesse Watters attempted to unpack the political motivations behind those words.
After playing the clip of Clinton's comments, Outnumbered host Sandra Smith defended Hobby Lobby, pointing out that the company will still pay for 16 forms of contraception for its female employees, while only refusing to pay for four.
"She's acting like Hobby Lobby all of a sudden is telling these women that work for them to wear a burka or something like that," Watters said. "It's like if someone said my boss is not buying me a gun, he's denying me my Second Amendment rights. Having access to contraception is not in the Constitution, she's dead wrong about that."
RELATED: Fox Host Hails Hobby Lobby Ruling as 'Huge Win for Women'
It is not that Hillary Clinton is saying women have a constitutional right to contraception, but rather that privately-held companies should not have the right to deny those women contraception when it is otherwise provided to them as part of a program like the Affordable Care Act.
Watters went on to say that Clinton needs to latch on to issues like this in order to win the White House in 2016. "She needs the single ladies vote, I call them the Beyoncé voters because of [her song] "Single Ladies," he said. "Obama won single ladies by 76% last time and they made up a quarter of the electorate."
"They depend on government because they're not depending on their husbands," he added. "They need contraception, health care and they love to talk about equal pay."
Watch video below, via Fox:
[h/t MMFA]
[Photo via screengrab]
— —
>> Follow Matt Wilstein (@TheMattWilstein) on Twitter
Have a tip we should know? [email protected]