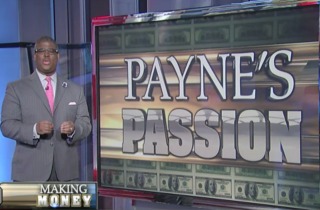 For FBN's Making Money on Thursday, the news that Chicago will offer monetary compensation to people who can prove they were tortured under the notorious reign of police commander Jon Burge became a conversation on whether President Barack Obama will push for slavery reparations.
Host Charles Payne started off the segment by explaining the Chicago news before quickly pivoting to speculation of his own, as first flagged by MMfA: "The news is a glimpse of much bigger news that is going to come from the White House, next year, I'm leaning towards. I think that there's going to be an official apology from the White House to slavery in America and then a major push to get cash, and I'm talking lots of cash."
"Many including those closest to President Obama will push him to make this happen," Payne, who himself is black, continued his prediction. "I actually think it would be a major mistake. Instead, Obama should really discuss and focus on all of the progress we have made and how all Americans need to move forward for better days for all of our kids."
-RELATED: Chicago Police Reportedly Used Gitmo-Style 'Black Site' to Illegally Detain Citizens
Tea Party News Network director Scottie Nell Hughes, a frequent Making Money guest, agreed with her host: "Sure, slavery was a horrible thing that happened, but this is not going to help race relations in the United States today," she said.
Watch the segment below, via FBN:
Have a tip we should know? tips@mediaite.com