Fox Host Grills Ex-CIA Official on Kenya Attacks: 'Where's the Muslim Outrage?'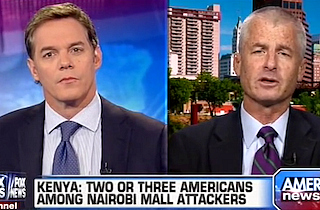 Going off Bill O'Reilly's accusation last night that the Muslim world was doing nothing to stop Islamic extremists, Fox News host Bill Hemmer pressed former CIA Deputy Director Philip Mudd, author of a book about al Qaeda, who argued that attacks like the one on a Kenyan shopping mall were the actions of a terrorist group on the run, and one alienating potential recruits through violence.
"We wonder where the outrage is," Hemmer said. "Where are the moderate Muslim leaders who are coming out saying this is wrong, we condemn it, we won't stand for it, we will not allow our religion to be defamed on behalf of these idiots?"
"You've seen some of this across the Islamic world," Mudd said. "For example, in Saudi Arabia, the senior cleric has been out, talking about what is going on in Somalia. One significant point: regardless what leaders say, look at polling data across the Middle East in places that witnessed terror attacks, like Saudi Arabia, Jordan, Pakistan. The support for radical Islamists, this kind of violence, is declining. We should not interpret this episode as evidence that the echoes of al Qaeda are increasing. They are not."
"Phil, a very direct question here," Hemmer said. "The U.N. will kick off in a matter of moments now. How many world leaders are going to stand on that stage and condemn what we're watching in Nairobi today?"
"My guess is most of them," Mudd said. "75, 80, 90%? Most of them will condemn this."
"You believe that?" asked a very-unconvinced Hemmer.
"Yes, I do," Mudd said. "These guys are not going to win by murdering innocents."
Watch the full segment below, via Fox News:
[Image via screengrab]
——
>> Follow Evan McMurry (@evanmcmurry) on Twitter
Have a tip we should know? tips@mediaite.com