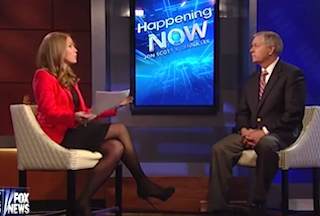 On the last day for Americans to sign-up for coverage under the Affordable Care Act, Sen. Lindsey Graham (R-SC) took his anti-Obamacare message to Fox News. But he faced what may have been unexpected resistance from Happening Now host Jenna Lee, who challenged Graham to explain why Republicans have not put forward a viable alternative to President Barack Obama's signature legislation.
"Why do you think Republicans can put together a better plan to get the trust back in government?" Lee asked Graham. "What are Republicans putting out there that says to the American, people, 'no, you can trust us. If you don't trust what is happening now, trust us?'" When Graham pushed back, saying Obamacare can't be "fixed," Lee asked, "Why hasn't a full proposal of a completely different plan from the GOP been developed, put out to the press for us to look at and really dig into?"
"I hope that comes, but at the end of the day we're trying to implement a law that is just failing America on multiple fronts," Graham said, moving past the question to reiterate his criticism of the current law.
But Lee did not let Graham off the hook. "Getting back to the question," she said, "what is preventing the Republicans from putting forward a real plan that everybody can look at, even before November? Is it simply the election and political pressure that's not allowing that to happen?"
"We should have out line of health care plan that would be better for America," Graham ultimately admitted. "I think that would help the Republican Party, but between now and then our Democratic friends are trying to tell the American people you can fix Obamacare. It can't be fixed. It has to be torn down and start over."
Watch video below, via Fox News:
[h/t ThinkProgress]
[photo via screengrab]
— —
>> Follow Matt Wilstein (@TheMattWilstein) on Twitter
Have a tip we should know? tips@mediaite.com