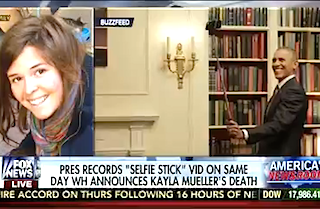 Fox News has uncovered a brand new "controversy" surrounding President Barack Obama's silly BuzzFeed video, released Thursday, that aims to get more young people to sign up for Obamacare before this weekend's deadline by showing the president using a selfie stick and saying "YOLO." The fact that Obama reportedly shot the video on the same day officials confirmed the death of American ISIS hostage Kayla Mueller, has some conservative commentators up in arms.
"The president says, 'YOLO, man!' And for people at home who may not know what that stands for, YOLO stands for 'you only live once,'" Fox host Heather Childers told contributor Juan Williams Friday morning. "Well you know who's not alive, Juan, now? Kayla Mueller."
"It is not a matter appropriate or inappropriate, I don't think it has any connection to Ms. Mueller's sad demise," Williams replied. "What we're talking about here is a totally different issue, which is the president funning around in pursuit of trying to get more people to sign up for health care," he added.
On the other side, Mary Katharine Ham said of Obama, "He does have a pattern of doing highly unserious things on very, on heels of very serious events and I don't think that is a great look for the White House," adding, "On this one I think I'm less concerned with the timing and more concerned with the sheer silliness of it."
This insistence that Obama only engage in serious activities when tragic events occur has come up repeatedly over his six years in office, most recently when the president went golfing on the same day American journalist James Foley was beheaded by ISIS. Asked about that decision by NBC News' Chuck Todd, Obama said he "should have anticipated the optics" of that juxtaposition.
Watch video below, via Fox News:
Watch the full Obama video below, via BuzzFeed:
[Photo via screengrab]
— —
>> Follow Matt Wilstein (@TheMattWilstein) on Twitter
Have a tip we should know? tips@mediaite.com