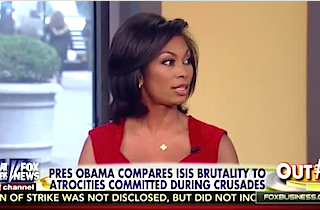 During this week's National Prayer Breakfast, President Barack Obama warned Christians not to get on a "high horse" when it comes to religious extremism, saying, "remember that during the Crusades and the Inquisition people committed terrible deeds in the name of Christ." Those comments caused Fox News' Harris Faulkner to wonder aloud Friday why Obama is willing to talk about the "Christian Crusades" but not utter the words "radical Islam."
"No one has ever said they weren't the 'Christian Crusades,'" Faulkner said. "So why can't he call this radical Islam?" She said Christians "understand our history" and "the value of not repeating it."
Andrea Tantaros proceeded to call the president out for attributing the Spanish Inquisition to Christians, saying that 100 people died, "not by the Church killing them on a witch hunt, but it was the Spanish authorities." She called the 100 people who died a "normal lunch break" for a group like Boko Haram.
The 100 executions number appears to apply only to the first few years of the Spanish Inquisition, with estimates ranging from 3,000-5,000 when you include the years that followed. It was committed by a Catholic monarchy that wanted to maintain a Christian orthodoxy much in the same way the acts of a group like ISIS are committed to create a Muslim caliphate.
RELATED: Scarborough Mocks 'Stupid Left-Wing Moral Equivalency' of Obama's Crusades Remarks
Finally, former U.N. Ambassador John Bolton went so far as to compare the president to Osama bin Laden for his use of the term "Crusades." He said Obama "validated one of Al Qaeda and Osama bin Laden's main points" by using the term because "it was Osama bin Laden who called Americans and the west crusaders."
Last month, White House Press Secretary Josh Earnest told reporters that the Obama Administration does not believe it is "accurate" to describe terrorists like the ones who attacked Charlie Hebdo in Paris as "radical Islamists" because they are "individuals who would like to cloak themselves in the veil of a particular religion" and the U.S. does not want to give them the satisfaction.
Watch video below, via Fox News:
[Photo via screengrab]
— —
>> Follow Matt Wilstein (@TheMattWilstein) on Twitter
Have a tip we should know? tips@mediaite.com