Fox Host on Bathroom Law: 'What About the Civil Rights of Women Who Don't Want Men in Their Bathrooms?'
Fox Host: 'What About the Civil Rights of Women Who Don't Want Men in Their Bathrooms?'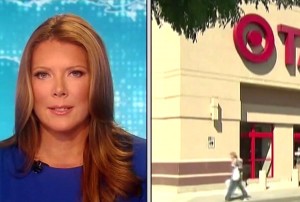 The parade of hate and ignorance continues. The Justice Department has given notice to the state of North Carolina that its anti-trans bathroom law violates the Civil Rights Act, and like clockwork, some Fox Business Network host is reacting by throwing every ignorant falsehood in the book, plus a truly twisted premise, into a mere 30 seconds. On Thursday afternoon, host of the ironically-named Intelligence Report Trish Regan introduced a segment with panicky bigot Todd Starnes by wondering about the "civil rights of women who don't want men in their bathrooms":
Justice Department slamming North Carolina's bathroom bill, which requires people to use the restroom corresponding to birth gender, because it quote violates civil rights laws. So the law violates the rights of transgenders, but what about the civil rights of women who don't want men in their bathroom? Do their rights matter at all? The State of Texas wants to know how Target will protect women and children in their bathrooms when they announced that basically customers can use whatever bathroom they want. People say they will boycott the company over its policy. The stock is having rough go of it of late, in part because of this issue.
Regan manages to stuff a lot of hate and ignorance into that little intro, and would go on to describe "trnsgenders" (an offensive term) as men who "dress like women" because they "think they're women."
The facts are that neither the local ordinances those "bathroom bills" are meant to address nor Target's inclusive bathroom policy allows men to use women's restrooms, or vice versa. Gender identity and expression are not inconsequential whims that can be abused for unlawful purposes any more than other immutable characteristics are. In fact, the only people who seem to be even trying to abuse gender identity are men who say they're trying to protect women and girls by trying to get into ladies' restrooms.
This is an opinion piece. The views expressed in this article are those of just the author.