Fox Host Rips Obama's Onslaught Of Damage Control: Intended To 'Confuse The American People,' Press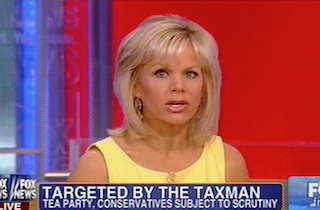 Amid a frenzy of stories about Benghazi, the IRS, and the Associated Press/Justice Department issues, President Obama tackled all three in one day on Wednesday — by releasing emails about talking points, announcing the commissioner's resignation, and pushing for a media shield law, respectively. Fox & Friends tackled the "damage control" on Thursday's show, with co-host Gretchen Carlson quickly dismissing it.
"I think they did this to confuse the American people because they know these scandals were brewing and getting bigger, so they released the emails," Carlson asserted, further adding that the White House must only have released those emails that pushed the blame onto the State Department. "I think it's a way of putting both those two stories out there to confuse not only journalists about what we should talk about the next day, because there is so much to talk about, or newspaper headlines."
Steve Doocy stuck to the point about Benghazi, criticizing White House Press Secretary Jay Carney for a history of lying about the story. Not only that, but after the State Department's efforts to protect Hillary Clinton, Doocy noted that the White House appears to have thrown her under the bus.
Speaking of the blame game, Brian Kilmeade also pointed to the White House narrative that they were simply going by what the intelligence community told them — forcing the CIA to have to stand up for itself. Now they'll get their side of the story out, he posited.
Take a look, via Fox News:

Have a tip we should know? tips@mediaite.com