Fox Host Tries (And Fails) To Get GOP Rep. King To Name Specific Spending Cuts He'd Like To See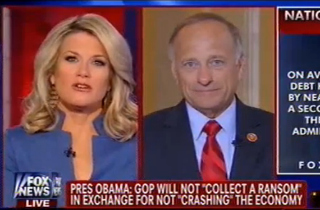 During his appearance on Fox's America's Newsroom this morning, Rep. Steve King (R-IA) was challenged by host Martha MacCallum to name specific spending cuts he'd like to see as part of a plan to offset an increase in the federal debt ceiling.
King told MacCallum that he would be in favor of shutting down the federal government if Obama's camp does not agree to spending cuts as part of a debt ceiling plan. "We can start shutting down the appropriations," he said. "We must have cuts to go along with any debt increase. They must be substantial. There must be a line."
At one point, MacCallum became seemingly frustrated, asking King to explain which specific spending programs and/or federal agencies he would cut. "Are you going to put forth something that says, 'We the House Republicans believe that this program should be cut, this agency should be cut, these are the spending cuts that we would outline in order to offset the increase in the debt ceiling? We believe that there needs to be cuts and these are what they would be? Are you going to do that?" she asked.
King replied, "You know, Martha, we're going to get together this weekend and we're gona crunch all that out. So I don't want to presume that there is consensus there I might adhere to. I want to do that with my colleagues," before explaining that his main goal is to lay down a "bright line" on increasing the debt ceiling without any proposed cuts.
"You need to sell that idea to the American people with specifics," MacCallum interrupted, "and with a plan and say, 'We're the House GOP. Here's what we would do. Here are the programs we would cut in order to reach parity over the next five years. We may never get this, but we want the American people to understand what we stand for.' Is that something we can expect?"
"Well, Martha, I take your point that we need to sell it with specifics," the congressman answered. "But you also understand as soon as a specific is put out there, it is attacked by the spending piranhas on the other side."
Watch below, via Fox:
[h/t SteveKingIA]
— —
>> Follow Andrew Kirell (@AndrewKirell) on Twitter
Have a tip we should know? tips@mediaite.com