Fox Hosts Go After Obama Admin Over IRS Scandal With Claims Of 'A Paper Trail' To Washington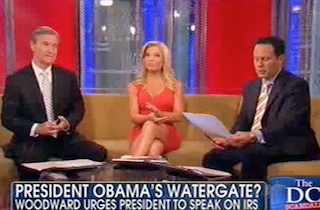 The Fox & Friends crew on Tuesday morning took another look at the evolving IRS scandal, discussing yesterday's hearing that acting chief Daniel Werfel attended. While Brian Kilmeade took to defending Werfel from the onslaught of questions he faced, the hosts turned their criticism toward claims that there's a "paper trail" to Washington.
Kilmeade found it refreshing that Werfel actually said the agency didn't need any more money, and argued that he has a good opportunity to go in and clean house. Following a quick montage from the congressional hearing, Kilmeade also defended Werfel and questioned, "Why are they asking him a bunch of questions he's not responsible for?"
Meanwhile, Steve Doocy wasn't as welcoming, criticizing Werfel for saying the IRS spending issues (the Star Trek video, etc.) were from a prior era. "This is the same administration where Benghazi was a long time ago," he remarked.
But with that, he moved to a different aspect of the story. Namely, a Drudge Report editor's claims that there's a "paper trail to D.C." Noting the editor's "impeccable sources," Doocy offered up another of his tweets claiming that the scandal's about the "explode" because low-level workers aren't pleased about becoming scapegoats.
"They have been thrown under the bus," Anna Kooiman commiserated. "There's been a call too for whether you're going to have accountability, which is definitely necessary. Or will these people even possibly get immunity so that they can get answers so they can see how high this thing goes up the food chain."
On the topic of accountability, Kilmeade pointed to President Bush's handling of the Valerie Plame situation, praising his decision to turn to an independent prosecutor. That, he said, is undeniably leadership.
Take a look, via Fox News:

Have a tip we should know? tips@mediaite.com