Fox Hosts Link NSA Debate To Previous Obama Scandals: His 'Reputation' And 'Antics' Have 'Poisoned The Well'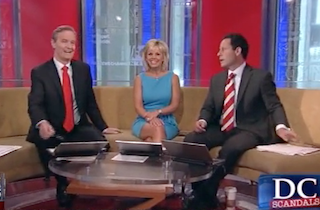 Speaking about the NSA on Wednesday, the hosts of Fox & Friends debated the information that came out of yesterday's hearing — and whether we should trust what officials are telling us about the scope of surveillance (versus what leaker Edward Snowden has said). Linking two Obama administration controversies, Steve Doocy further questioned whether the NSA could target the way the IRS did.
"For gosh sake's, when something like this important comes up, maybe next time members of Congress will become informed and not criticize later on," Gretchen Carlson remarked. "It turns out now that people in the know on the intelligence committee are saying no, that maybe there were 300 emails, not millions, that they were looking at, and only looking at if they had a connection to say, for example, the country of Yemen."
Doocy maintained his stance about going beyond what the Patriot Act initially allowed. During the hearing, he added, it's "curious" that more lawmakers didn't question the surveillance programs. As Doocy appeared skeptical of their "trust us" message, Carlson argued that at some point we do have to trust some government officials.
"A lot of people are watching, saying if the IRS targeted conservatives, what's to keep the NSA from doing something like that?" Doocy later added.
"I think that's different situation," Carlson countered. "I think that was obvious targeting. I think this was just a general surveillance of all Americans — and now it's turning out, maybe they weren't even really looking at all Americans. Just terrorists."
Brian Kilmeade then weighed in to argue that "the president's reputation, his antics over the last month in his administration have poisoned the well for the NSA talks."
Take a look, via Fox News:

Have a tip we should know? tips@mediaite.com