Fox Hosts Take Turns Railing Against Eric Holder: Can He 'Possibly Survive This'?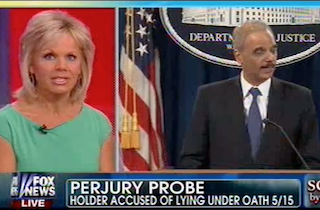 Attorney General Eric Holder was once again the target of several Fox & Friends segments on Wednesday, with the hosts following up their criticisms with the news that a House committee is examining whether he lied under oath about the DOJ going after the press. Questioning whether Holder can survive this scandal, the hosts also wondered if the blame should be more equally distributed.
Brian Kilmeade segued into a game of What Would Be Worse: "For the attorney general to have these discussions and totally forget about it, to have these discussions and not want to talk about it, for the attorney general to kinda remember it, or to say 'I hope they don't find out about it, I'll pretend not to know about it'?"
Play at home, he encouraged as Steve Doocy brought the discussion back to a more serious note by informing that many "don't think he can possibly survive this." Especially given that it looks like he lied under oath.
With that, Doocy chronicled a brief history of Holder's less-than-flattering past dealings. "This is the same Eric Holder behind Fast and Furious," he reminded. "This is the same Eric Holder who, when he was working in the Bill Clinton administration…essentially got Marc Rich, one of the biggest tax evaders in history, a pardon."
The same person, he added, who felt no remorse until the story hit the press. But the most "egregious" aspect, Gretchen Carlson said, is that he was "judge shopping" to find someone who'd get the warrant for Rosen. "This took a lot of work and effort," she argued.
Kilmeade wondered if Holder is taking the blame for president, fielding criticism that should be more widely spread throughout the administration. "Is everyone coming down on Eric Holder because he is just doing what he's told to do?" he asked. "Even though there should be a dissemination between the White House and the Justice Department."
Take a look, via Fox News:

Have a tip we should know? tips@mediaite.com