Fox Hosts Slam Snowden, Spar Over Revealing NSA Programs: Gov't 'Does Need To Have A Couple Of Secrets'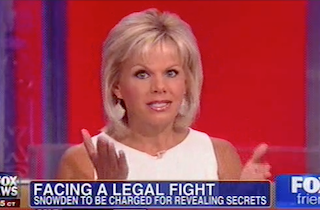 On Tuesday's Fox & Friends, the hosts didn't entirely agree on the matter of the NSA surveillance, as they sought to discuss the leaker, Edward Snowden, who appears to be on the run. As they debated the issue of surveillance, Gretchen Carlson found herself defending the NSA actions — arguing that the government does need to have some secrets.
At the top of the segment, Steve Doocy — who wasn't on the same page as his co-hosts — recalled that Director of National Intelligence James Clapper previously denied this type of snooping while he was speaking under oath. He "flat-out lied."
"Now we're finding out that maybe the government does need to have an NSA and does need to have a couple of secrets," Carlson argued, while noting that she wasn't advocating lying. Doocy countered that the government has to tell us the truth. "I don't know if you can expose that when you're under oath," she insisted, "to tell the entire world how you're trying to fight terrorism, because then you're not fighting terrorism anymore."
While many have touted Snowden as a hero, Brian Kilmeade didn't agree. As Carlson said, Kilmeade felt it is in our best interest to have some secrets — to not let terrorists in on our strategy. Nonetheless, he noted he couldn't agree with the program itself. Carlson cited new polling showing that 56 percent of Americans are okay with the programs, but Kilmeade countered that 52 percent were against PRISM.
"We need to keep this nation safe, first and foremost," Carlson emphasized, questioning why so many people have access to the kind of information Snowden leaked in the first place. In that case, "more people will come out to potentially be heroes."
Take a look, via Fox News:

Have a tip we should know? tips@mediaite.com