Fox Hosts Tear Into 'Misleading' Eric Holder, Question If He Lied Under Oath About Going After Press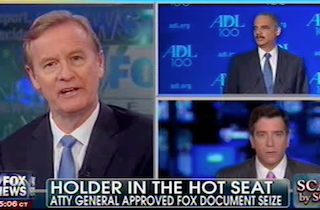 In light of the matter involving the Justice Department and Fox News reporter James Rosen, the Fox & Friends crew went after Attorney General Eric Holder on Tuesday morning, questioning whether he may have been dishonest under oath when asked about DOJ targeting. Despite what he said, the hosts argued, it's clear he was involved.
"It sounds like he's actually misleading the public," Steve Doocy observed. In particular, he was referring to Holder's remark, wherein he said, "With regard to the potential prosecution of the press for the disclosure of material, that is not something that I have ever been involved in, heard of, or would think would be a wise policy."
That comment came a few days before news broke about Rosen's searches — which Doocy contrasted with reports that Holder signed off on the order to issue a warrant for Rosen's communications. "Unbelievable," Gretchen Carlson characterized. "Now people are asking whether or not that was a truthful statement. So, was the attorney general of this country not telling the truth just a couple of days before this whole case became known?"
Doocy was also the one who brought us the silver lining: "Eric Holder will be investigating Eric Holder."
Meanwhile, Brian Kilmeade was hung up on the issue of accountability.
"Nobody is ever responsible for anything," he noted with frustration. "Eric Holder is not responsible, the Justice Department, the president is not responsible. That is the most aggravating thing. Everything you're trying to teach people in life — take responsibility for your actions, take responsibility for the people you hire and are in charge of — but no one takes responsibility."
Take a look, via Fox News:

Have a tip we should know? [email protected]