Fox Hosts: Timing of Benghazi Capture 'Too Neat' Ahead of Hillary's Fox Interview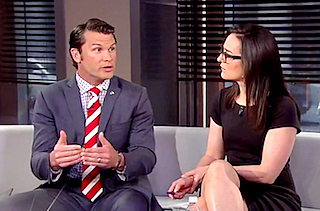 A couple co-hosts from Fox's Outnumbered Tuesday reacted to the apprehension of Ahmed Abu Khattala, one of the prime suspects in the 2012 Benghazi attack, by wondering about the timing of the capture given former Secretary of State Hillary Clinton's book tour and interview with Fox's Bret Baier later this evening.
"You have the former Secretary of State who is in the middle of a really high-profile book tour," Independents host Kennedy said. "I think this is convenient for her to shift the talking points from some of the things she's been discussing."
Concerned Vets CEO and Fox contributor Pete Hegseth noted that Clinton was set to give an interview with Fox, that will almost certainly focus on her role in Benghazi, in just a few hours.
"Something clearly changed in the calculus of the United States and I think a lot has to do with the State Department," he said. "I think this thing needs to be tied in a bow for certain individuals to have a clean break from an incident that will continue to be a scandal and an anchor around a certain individual's neck who may want to run for president."
"What a great thing to announce tonight at Fox News that the perpetrators have been brought to justice," he continued. "It's all too neat and it's too cute. I always want to give the benefit of the doubt to our authorities, but in this case it feels too neat on the timeline."
They're not the only ones noting the timing:
Glad we nabbed a #Benghazi suspect, but the timing is questionable. Did they let him wander, waiting for the perfect political opportunity?

— Joe Walsh (@WalshFreedom) June 17, 2014
remarkable timing for Hillary – Benghazi suspect capture hours before her Fox News interview. http://t.co/aYx5OI0J71

— Rick Klein (@rickklein) June 17, 2014
Watch the clip below, via Fox News:
[Image via screengrab]
——
>> Follow Evan McMurry (@evanmcmurry) on Twitter
Have a tip we should know? tips@mediaite.com