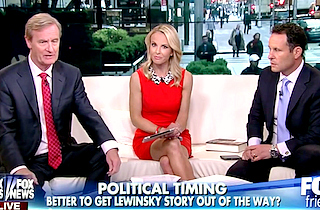 On Wednesday morning's edition of Elisabeth Hasselbeck: Between Two Ferns, the hosts noted that "the timing" of Monica Lewinsky's Vanity Fair essay "is certainly coming under question."

It certainly is — from the other studios at Fox News. Guest Larry O'Connor took the idea for a walk during Gretchen Carlson's show yesterday, alleging that Hillary Clinton was "behind everything" and that the Vanity Fair piece was all "part of the Clinton plan." (He backed off of this idea when it was too much even for Carlson.) A couple hours later, The Five noted that "conspiracy theories were floating around" — though the hosts weren't sure if they "hold water or not" — that the piece was meant to elicit sympathy for Clinton and thus help elect her, and that VF could even do so without openly colluding with Clinton as the media and Democrats can "communicate without talking." Several hours later, Lynne Cheney "wondered" on the O'Reilly Factor whether VF was conspiring with Clinton to get the piece "out of the way."
"Would Vanity Fair publish anything of Monica Lewinsky that Hillary Clinton wouldn't want in Vanity Fair?" she asked.
"Probably not," Steve Doocy answered twelve hours later, in a perfect call-and-response with a guest on another show.
Thus does completely baseless conjecture aired by Fox become "questions" that Fox then reports as news.
NB: In fairness, CNN's Ashleigh Banfield also noted the "uncanny timing."
Watch the clip below, via Fox News:
[Image via screengrab]
——
>> Follow Evan McMurry (@evanmcmurry) on Twitter
Have a tip we should know? tips@mediaite.com