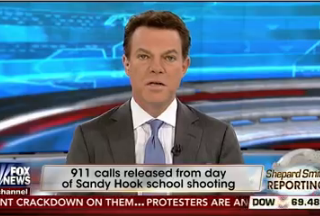 Fox News became the first cable news network to play audio from the just-released 911 calls from the Sandy Hook Elementary School shooting that occurred nearly a year ago on December 14th, 2012. Shortly after the Shepard Smith-hosted 3pm hour began, Fox aired short excerpts from the calls, though it said it was withholding the most disturbing clips.
Mainstream television outlets have been generally cautious with the sensitive material, saying they would review the content before deciding which parts, if any, to play on the air. More than an hour after they first appeared on the internet, Smith told Fox viewers that the calls "capture a mix of chaos and calm professionalism as a gunman opened fire at Sandy Hook Elementary School and murdered children and teachers one by one. Fox News will not be airing the most gut-wrenching moments from those calls."
"We and our managers have listened to all the recordings that came in that day," he continued, "and out of respect for the victims we will be very sensitive with what we do put on Fox News Channel and all across all of our platforms throughout the day and the days to come."
Fox proceeded to play short clips from two different 911 calls that came from inside the school, but removed portions that contained the sound of gunfire.
Watch video below, via Fox News:
CNN also opened its 3pm hour of CNN Newsroom with the Newtown 911 tapes story, but in contrast to Fox chose to describe the content of the calls rather than play the audio on the air. Reporter Deborah Feyerick, who listened to the calls, described them to host Brooke Baldwin. "You hear how this all plays out," Feyerick said. "A female teacher called in, she had been shot in the foot. You could hear a little bit of the fear in her voice."
Watch video below, via CNN:
While MSNBC's Tamron Hall did discuss the audio during her 2pm show, that network, like CNN, chose not to play the audio on air. MSNBC's The Cycle opened its 3pm hour with coverage of President Barack Obama's speech on the economy from earlier in the day.
NBC News President Deborah Turness has indicated her intention to "respect the wishes" of the families who did not want the tapes released, but left open the possibly that they could be aired after review. Additionally, CNN's Brian Stelter reported that ABC News will not be airing any audio from the tapes while CBS News will air short clips during the evening news tonight:

You can listen to all seven of the released 911 calls here.
[photo via screengrab]
— —
>> Follow Matt Wilstein (@TheMattWilstein) on Twitter
Have a tip we should know? tips@mediaite.com