Fox and CNN Boast Historic Quarter; Fox Leads Basic Cable in Primetime and Total Day Viewership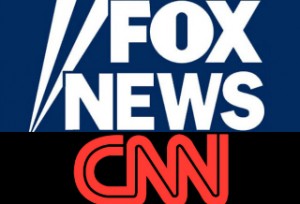 The first quarter of 2016 proved to be a historic ratings bonanza for both CNN and Fox News. For the first time in its history, Fox News beat out every other basic cable network for the highest primetime and total day viewership for the quarter. Meanwhile, CNN had its most-watched quarter in total day in seven years and best primetime since 2008. 
For the first quarter of the year Fox netted 1,351,000 in total viewers and 271,000 in the demographic of adults aged 25-54 — a record-breaking quarter for total day. In primetime, it was Fox's highest rated quarter since 2012, averaging 2,373,000 in total and 483,000 in demo. The historic quarter comes after 14 years as the most-watched cable news channel.
CNN narrowed the gap with Fox News to the closest it's been in seven years. The news network took in 732,000 total viewers and 217,000 in demo for today day; in primetime, it averaged 1,419,000 total viewers and 455,000 in demo. No doubt the non-stop (ratings rich) political theater has helped CNN accomplish this. CNN had 12 debates and town halls, while MSNBC had 6 and Fox had just 3.
During the quarter, Fox snagged the top 14 cable news programs in total viewers and nine of the top 10 programs in the coveted 25-54 demographic. The O'Reilly Factor remains the top program in cable news, earning its highest-rated quarter since 2012 in both total (3,416,000) and demo (598,000). The Kelly File had its most-watched quarter in total viewers since its 2013 launch (2,516,000); it also took in 492,000 in demo. CNN notched two of the top 20 cable news programs, with Anderson Cooper 360 at #16 with 1,063,000 in total and 321,000 in demo; Erin Burnett Outfront at #20 with 843,000 in total and 253,000 in demo.
The midday America's Newsroom, co-anchored by Bill Hemmer and Martha MacCallum earned its highest-rated quarter ever in total viewers with 1,621,000, while in March the mid-afternoon news show Shepard Smith Reporting had its highest-rated month in both total viewers (1,502,000) and the demo (248,000) since it was launched in Oct. 2013.
In addition to the strong showings from the primetime shows, individual telecasts related to election events drew record viewerships. The Mar. 3 GOP debate was the second-highest-rated telecast in the network's history — second only to the GOP debate the network aired in August. The Mar. 15 primary night coverage, co-anchored by Bret Baier and Megyn Kelly, gave Fox the highest-rated primary night in cable news history.
Have a tip we should know? tips@mediaite.com