Fox Legal Analyst Jabs Greenwald: 'Almost Kind Of A Flak' For Snowden, Needs To Be More Transparent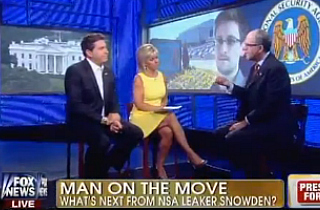 Shortly after Glenn Greenwald made his appearance on Fox & Friends to blast the Obama administration's handling of NSA leaker Edward Snowden, legal analyst Peter Johnson, Jr., offered his critique of the Guardian reporter, emphasizing his "advocacy journalism" as reason to keep the reporter's stories at arm's length.
"Greenwald has it a little bit mixed up," Johnson told hosts Eric Bolling and Gretchen Carlson. "I do think the government is trying to make an example of Mr. Snowden because I believe that he broke the law. And so it's appropriate to make an example out of him."
Johnson then turned his sights onto Greenwald himself, asking whether the reporter is merely an "advocacy journalist":
It appears that he is. If he's an advocacy journalist, then we have to examine everything he's done with regards to this case. If he's merely a reporter, taking documents and saying this is what he thinks the world should see, then that's one thing. But when he becomes kind of an advocate, almost a kind of flak, for Mr. Snowden who is incommunicado in the Russian airport, then transparency should become the issue. What do we know about Mr. Greenwald's role?
Bolling pushed back, asking Johnson, "What if he brings up things that violate the Constitution or what if he has information that would lead to what went on in Benghazi?"
"It has nothing to do with Benghazi," Johnson replied. "You and I are against violations of the Constitution. But that is not justification for breaking on the law."
Carlson muttered in agreement, before asking: "Other news outlets have decided not to publish this information. Does that make Glenn Greenwald more of an advocate?"
"Do we put American interests above putting out a story?" Johnson said regarding the outlets who've opted not to publish some of the Snowden leaks. "I think that's a concern and a balance that all journalists have to meet and understand. If the Constitution comes first, and the government and our country come first, and the people come first, are we doing harm?"
Watch below, via Fox:
— —
>> Follow Andrew Kirell (@AndrewKirell) on Twitter
Have a tip we should know? tips@mediaite.com