Fox Liberal Guest Follows Up Tense Exchange By Telling MSNBC: Hannity's 'Upset The Economy's Rebounding'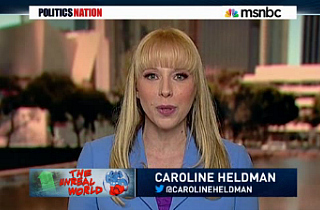 One day after she battled Sean Hannity over his slamming of President Obama as unemployment numbers fall, frequent Fox liberal guest Caroline Heldman headed on over to MSNBC to tell Al Sharpton that the Fox conservative host is "upset" that the economy is looking up.
During a tense exchange on Hannity Monday evening, Heldman openly objected to Hannity's characterization that liberals are putting a "positive spin" on the recently-revealed 7.7% unemployment rate. She eventually mocked him for "suddenly" being concerned with the well-being of the poor and elderly.
Appearing on Sharpton's PoliticsNation the next afternoon, the Occidental College associate professor that "I have never met a group of people that is so upset that the economy is rebounding than the folks over at Fox."
She continued to explain that, in her belief, "the signs are really clear: not only the unemployment rate dropping, but housing starts, new housing starts, housing prices, the fact that the stock market has doubled since 2009, that private wealth has been fully restored." She said the economy "is getting better, and we can't be in denial about this."
On Hannity himself, Heldman told Sharpton: "I think that Sean Hannity is a perfectly likable person. I happen to know that he tips 100-percent in his private life. I just wish that his public stances and the stances of Republicans didn't go after the poor, the elderly, kids with Pell grant cuts, Medicaid cuts, job training cuts. You really do have to put your money where your mouth is."
Sharpton agreed, adding that "I don't have a problem with any of [the Fox hosts] personally. They just seem to have a problem with facts."
Watch below, via MSNBC:
— —
>> Follow Andrew Kirell (@AndrewKirell) on Twitter
Have a tip we should know? [email protected]